In Memory
Sharon Poole (Ring)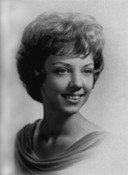 Sharon Poole Myers Ring, 67, of Plant City, Florida, passed away November 9th, 2012, from complications of COPD.
She is survived by her two sons, Harry Myers and Andy Myers, five grandchildren, John, 25, Josh, 24, Brendon, 14, and twins Zeke and Gabby, 10.
Sharon attended college in Nashville, TN, until she met and married her first husband, then travelled extensively with her husband in the service until 1975. In 1975, Sharon and the children settled in Tampa, Florida, where she went back to school to become a Dental Hygienist, graduating in 1981. She met Don Ring in 1999 and married in 2000. Don passed away in November of 2008. After retiring from Dental Hygiene in 2007, she started a new career making quilts, her favorite hobby. Sharon had just reconnected with some of the Class of '63 and we were communicating via email regularly. It was a great shock to find that she had passed. She was a lovely woman, and will be sadly missed.