In Memory
Elbie McDaniel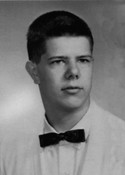 Date Deceased: AUG-8-2010
Age at Death: 66
Cause of Death: CANCER
Classmate City: BETHEL TOWNSHIP
Classmate State: PA
Classmate Country: USA
Survived By: WIFE: GERALDINE MCDANIEL; DAUGHTERS: DAWN GEORGE, DONNA WINTER, SHARON MCDANIEL; BROTHER: THOMAS MCDANIEL; AND THREE GRAND CHILDREN

ELBIE SERVED IN THE US ARMY EARNING THE GOOD CONDUCT MEDAL AND OTHER AWARDS. ELBIE WAS A MEMBER OF THE BETHEL FIRE COMPANY AND WAS A LIFE MEMBER. ELBIE WORKED AT SCOTT PAPER COMPANY FOR 37 YEARS BEFORE HE RETIRED ELBIE ALSO WORKED PART TIME FOR THE BETHEL TOWNSHIP HIGHWAY DEPT ELBIE LOVED HUNTING AND FISHING ELBIE WAS BURIED AT THE SILOAM METHODIST CHURCH CEMETARY IN BETHEL


This message has been sent to you from VALLEYFOX4@AOL.COM. You can not reply directly. Click here if you wish to start a new email to VALLEYFOX4@AOL.COM.