In Memory
Jane Adams (Carroll)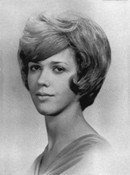 Jane Adams Carroll, of West Chester, died on December 31, 2010. Jane grew up in Marcus Hook and graduated from Media High School in 1963.
She was very artistic in interior and floral design. A lot of her work was done for family and friends. She will be sadly missed by her family and friends.
Jane was the daughter of the late Hilma and James Adams. She is survived by her cousins Kathryn Papp and Sue Thompson, and her nieces Katelyn and Samantha.
Services and interment were private. Condolences can be made at www.danjolell.com